Linatex A/S provides quality solutions within technical rubber. Should you use finished rubber sheets or special molded items, you will receive documented quality products with us.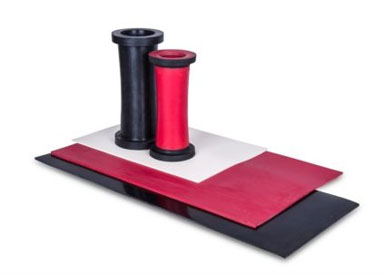 You get advice on the best material for the specific task - we know the market and the legislation in detail.
You are not locked to a particular producer of raw materials, because we choose the raw materials that are best suited to the individual task.
You are also welcome to write to us online, please include drawings of the items you need, and we will contact you for further dialogue.
Fast delivery of technical rubber at production stop
f something goes wrong in a production unit, and you need replacement issues, we will deliver quickly. Often even from day to day, depending on the type of items that are needed.
Linatex A/S 's production environment is designed for flexibility, which benefits you as a customer. The longer your production is still, the more expensive it will be.
We understand the problem and work with you to minimize downtime and risk of further problems.
Linatex A/S is the only company in Denmark that works both with technical plastic and technical rubber.
It gives you as a customer a unique starting point for finding the best material and combination of materials for production.
The starting point is always that the solution will be a product with the best performance at the best price.
  View our certifications