Linatex supplies PUR in plates or rods
Linatex delivers PUR in plates or rods, but it is cheap to make a customized mold, for example POM, for your purpose.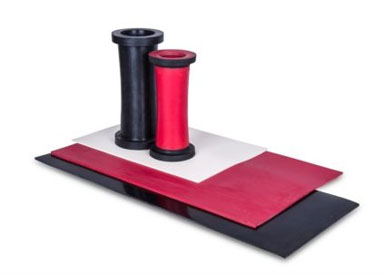 PUR – Features and Usage
PUR is a plastic material that is characterized by liquid rubber. Its properties means that PUR is suitable for use in production environments or for products exposed to wear and tear.
Typical application in production is, for example, coating on rollers, axles and drive wheels. Sliding rails and shock absorbing parts in the production environment ensure the entire production unit's longevity.
As a final product, PUR is used for example for roller skates, where the coating must be able to hold weight, asphalt and absorb shocks and the like.
PUR is available in several hardnesses: Shore A 60-95 and even harder in Shore B.
The material is flexible over several temperature levels and has high tensile strength.
PUR is available in varieties that withstand oil, grease and gasoline.
As the properties of the material depend on the composition of the raw materials, it is important that you indicate the context in which the material is to be used. This means that you get the right product for the specific application